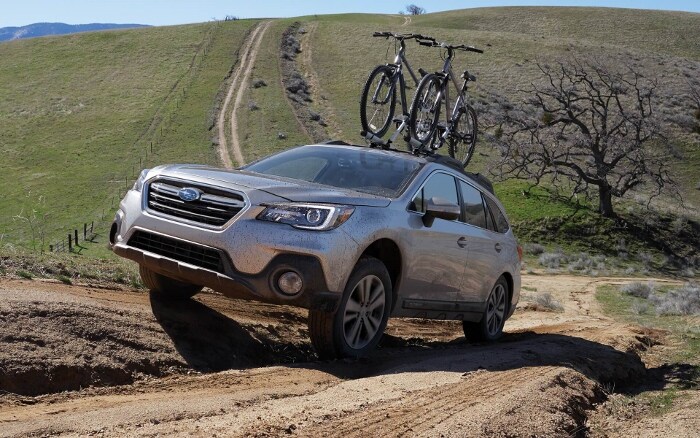 There are lots of crossover SUVs on the road these days – perhaps more than any other body style. However, none are as well-rounded as the 2018 Subaru Outback. This SUV, which played a big part in spurring Subaru of America to its best-ever January sales, delivers where it counts: off-road ability, fuel efficiency, cabin room and comfort, functionality, and visibility.
For a vehicle that's seen its sales increase for 40 consecutive months, we could forgive the Subaru Outback if it wanted to take a breather from revamps and redesigns. Lucky for us (and you), this remarkable automobile had other plans. In fact, every 2018 Subaru Outback gets several enhancements this year. Exterior changes include updated front/rear fascias and grille, along with newly-available LED daytime running lights. And in the cabin there's a new center console, a fresh steering wheel design, and a new infotainment platform with Apple CarPlay® and Android Auto®.
Visit Heritage Subaru Owings Mills and you can explore all six of this five-passenger SUV's trims, which are divided into 2.5i and 3.6R subsets. These numbers denote the engine type each trim features: for example, the 2018 Subaru Outback 2.5i Limited utilizes a 2.5-liter four-cylinder engine that outputs 175 horsepower and 174 lb-ft of torque, while the 2018 Subaru Outback 3.6R Touring upgrades to a 3.6-liter V6 engine that achieves 256 horsepower and 247 lb-ft of torque. The 3.6R trims also integrate numerous premium features.
Now is a great time to visit our local Subaru dealer for a test drive. It's Subaru of America's 50th anniversary, and cool happenings are afoot – including the unveiling of limited-edition models at the Chicago Auto Show. One special model for each member of the Subaru brand's award-winning lineup!